Neotein- 1 Box Monthly Subscription (15 Stick Packs Total)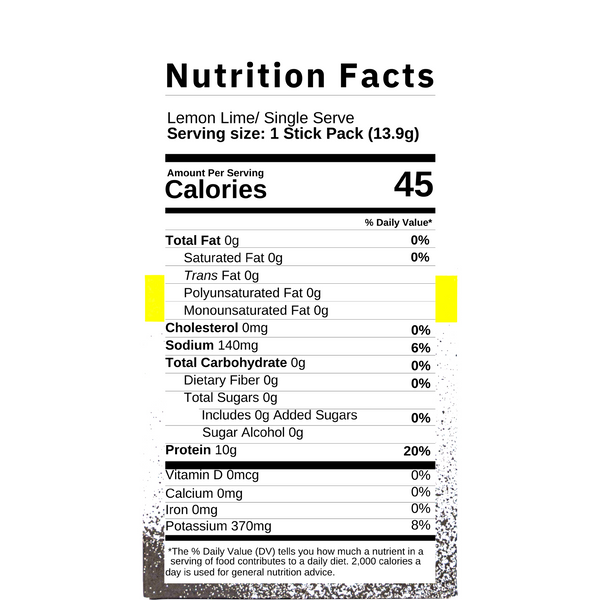 Neotein is a sports drink, protein drink, and collagen supplement in one small, portable stick pack. With no sugar, no carbs, no fillers, and just 45 calories, Neotein stick packs are light and refreshing, giving you everything you need, and nothing you don't.
Every batch is Informed Sport certified so you can enjoy with confidence!
We keep it simple.
No cumbersome containers, scoops, or shaker bottles
Directions
Pour NeoTEIN RECOVER into liquid of your choice, gently stir or shake to mix. Choose between 8oz-16oz to find your desired sweetness.
PRO TIP: If using in a glass of water, pour NeoTEIN in FIRST and then add the liquid for easier dissolving.
Benefits
Injury prevention
Muscle growth & recovery
Joint & Bone Health
Hydration 
Nutritional Info
Gluten-Free | Sugar-Free | Allergen-Free | Keto + Paleo-Friendly | Non-GMO
Nutrition Facts Serving Size: 1 Stick pack (13.9g), Amount per serving: Calories 45, Total Fat 0g (0% DV), Sat. Fat 0g, (0% DV), Trans Fat 0g, Cholesterol 0mg (0% DV), Sodium 140mg (6% DV), Total Carb. 0g (0% DV), Dietary Fiber 0g (0% DV), Total Sugars 0g (Incl. 0g Added Sugars, 0% DV), Protein 10g, Vit. D (0% DV), Calcium (0% DV), Iron (0% DV), Potassium (8% DV). % DV = % Daily Value.
Ingredients: Hydrolized bovine collagen, ctric acid, sodium bicarbonate, potassium bicarbonate, pottasium carbonate, natural lemon lime flavor, rebaudioside-M, silica, L-tryptophan, beta-carotene (color), and spirulina (color).